CARBONCHAINTM Nature Friendly Blockchain
CARBONCHAINTM
 IS A DECENTRALIZED HIGH-PERFORMANCE  AND NATURE-FRIENDLY BLOCKCHAIN AND ECOSYSTEM BUILT TO REVOLUTIONIZE THE CARBON INDUSTRY AND HELP COMBAT CLIMATE CHANGE.
CarbonChain
Introduction
CarbonChain
 aims to develop its own blockchain ledger on carbon reduction projects – such as a wind farm, solar park etc. in order to assist countries to prove to the rest of the world how they are assisting towards their climate change targets in the Paris Agreement 
CarbonChain 
monetizes the future carbon credit value on carbon reduction projects using a cryptocurrency called 'CarbonChain' and registers new projects with the United Nations which enable liquidity in the business cycle Registered projects can generate carbon credits for up to 28 years.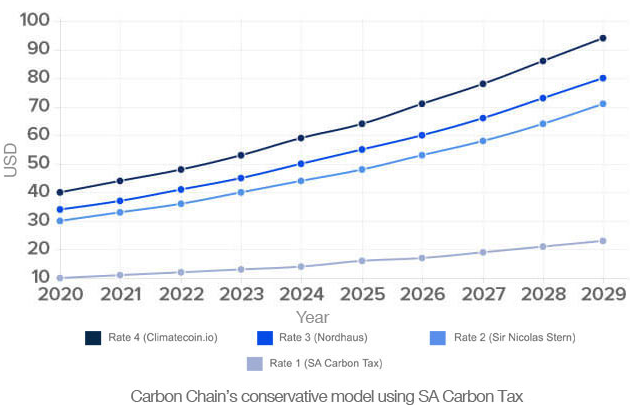 Because of the Paris Agreement commencing in 2020, the projected value of carbon credits is expected to increase exponentially (see graph). All sales of carbon credits from the Company are traded in CarbonChain Tokens; 30% of which have to be purchased from token holders via Crypto Exchanges ensuring constant trading of the token. CarbonChain is developing a blockchain system that will ensure that full accountability for the life of the carbon credit is monitored, thus ensuring no double accounting takes place whilst providing an evidence based blockchain ledger. On an annual basis, token holders are offered the 30% traded tokens back, at a transaction cost only fee.
About
CarbonChainTM
will help countries to 'prove' to the rest of the world how they are achieving their climate change targets in the Paris Agreement.
CarbonChainTM has created an incentivizing global carbon emission reduction program that allows every citizen in the world to take part in the trading of carbon credits and thus allow the development of such a blockchain system. This technology will be an  'evidenced based system', that can be used to determine what, where and when benefits towards climate change happen and 'prove it'.
Vision
CarbonChain's vision is to create a highly secure and highly scalable decentralized blockchain infrastructure for next generation carbon trading. We intend to make it possible for anyone in the world to participate in the ecosystem through the CarbonChain Coin (CCC). CarbonChain will proportionally distribute 30% of generated revenue from Carbon Credit sales to token holders and supporters of our project. Countries all over the world are introducing a Carbon Tax or Cap and Trade system and this is an ideal mechanism to secure a tax and carbon offset in accordance with their commitments to the Paris Agreement.
Values
CarbonChain  aims to find viable solutions to the climate change issues through: transparency, innovation, and sustainability. CarbonChain is confident that blockchain technology and our eco-friendly solutions will enable for a social, environmental, sustainable, and a meaningful difference to the impact of climate change.
Specification
The Participant of the Members Only Exchange can then either place the Carbon Chain Tokens on public cryptocurrency
Exchanges at the full price or hold the Tokens.
Carbon Chain Token
Token : Carbon Chain Token
Token Symbol : CCT
Token price : 1 CCT = 10¢ Eth
Total supply : 550,000,000 CCT
Technology : Ethereum
Token Utility : Purchasing Carbon Credits
Private Sale
Hard cap : $7.260M
121,000,000 CCT will be issued for purchase
Limits : Minimum : 0.01 ETH
Maximum : 50 ETH
Objective : Fund marketing for the Crowd Sale
Private Sale Start : Delayed - to be confirmed
Initial price : 1 CCT = USD 0.06 / ETH/FIAT
40% Discount + 10% bonus tokens
Soft cap : $480,000
If not reached, private sale
ETH/FIAT raised will be refunded.
Indicative Price :USD 0.06 per CCT
(40% Discount)
Private Sale End: Delayed - to be confirmed
Crowd Sale
Hard cap : $22M
220,000,000 CCT will be issued for purchase
Limits :  Minimum : 0.01 ETH
Maximum : 50 ETH
Objective : Fund the Carbon Chain Block Chain
Crowd Sale Start : 21st November-2018 23.59 GMT
Initial price : 1 CCT = USD 0.10 / ETH/FIAT
Token Allocation
| | | |
| --- | --- | --- |
| Participants in the Private Sale | 22% | 121,000,000 |
| Executive Panel | 13% | 71,500,000 |
| Carbon Chain Founders | 7% | 38,500,000 |
| Bounty/Influencers/Referrals | 6% | 33,000,000 |
| Participants in the Crowdsale | 40% | 220,000,000 |
| Team Members | 3% | 16,500,000 |
| Partners | 4% | 22,000,000 |
| Pot "A" Company | 5% | 27,500,000 |
| Total | 100% | 550,000,000 |