What is Minexcoin?
MinexCoin (MNX) is a global payments system based on a low volatility cryptocurrency which is a part of Minex ecosystem. Thanks to its stable exchange rate, MinexCoin is a reliable means of payment, while controllable growth of coin price makes it an attractive means of value storage. Containment of volatility and price growth are maintained by the system's autonomous algorithm acting like a central bank, hence the name MinexBank. Financial instruments it employs would allow traders to earn from exchange rate margin without damaging the coin's ecosystem. On the contrary, they would support it.
Minex platform combines the functionality of a simple and safe processing infrastructure for online shopping and cryptocurrency operations, an online digital assets exchange, and an investment platform.
The instruments available at Minex enable you to store your money safely, spend them with a couple of clicks, and even obtain guaranteed revenues by just helping the system to remain stable.
Why you should join
MinexCoin (MNX) is different from other altcoins because it's a stable low-volatility cryptocurrency with fixed annual growth. MinexCoin's growth is pegged to per annum growth of 10 cryptocurrencies with highest market caps. As per 2016 this growth was indexed at 33,6%. It does not matter if you want to use MNX for trading, long term investment or day-to-day financial activities, with MNX you will always be gaining value.
MinexCoin is an altcoin yet online-businesses will never lose value if they choose to accept it as means of payment.
MinexCoin is a stable currency but it will be lucrative for medium and long-term investors because of controlled annual growth and interest payments for "parking".
MinexCoin is a payments system which thanks to low volatility is a robust reserve cryptocurrency and eventually may be adopted as global money.
Low volatility and stable growth are achieved via a smart algorithm we call MinexBank (because its actions resemble those of central banks as they maintain stability of national currencies). The entire ecosystem will be governed by this power algorithm based on predetermined formulas, written by professional economists.
How it works
In short, MinexCoin is governed by MinexBank – a smart algorithm that autonomously takes action to maintain MNX's price in a predictable corridor.
MinexBank's main instruments of reigning in volatility are parking and interventions.
Parking means temporarily suspending a certain amount of coin on your wallet which will allow you to receive interest. Interest rates will fluctuate according to chosen parking period and current supply/demand balance, effectively incentivizing investors to park coins when supply overpowers demand on the market. When demand is on the rise, interest rates decrease and investors are incentivized to sell. Additionally, MinexBank uses its own reserve to conduct interventions – selling or buying MNX to alleviate market's pressure.
Minex ecosystem
The Minex Systems team intends to implement extended functionality of Minex Ecosystem by incorporating such applications as Minex Market, Minex Exchange, and Minex Platform. Implementation of those products seeks to expand the coin's sphere of circulation, thus driving demand for it.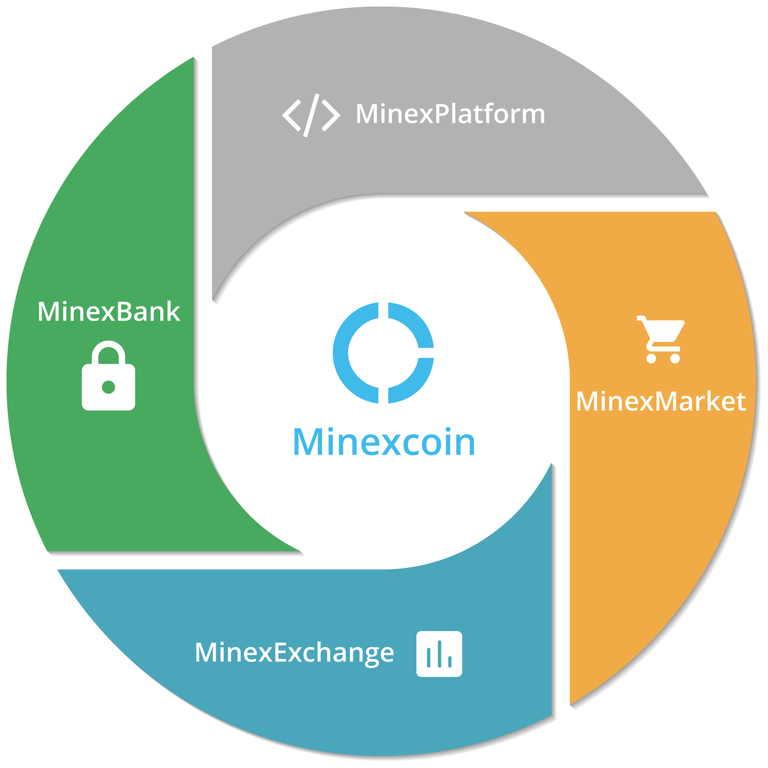 ICO details and token distribution
We have already successfully conducted the first round of ICO (Subscription), securing presubscription for 2 million MNX and building a strong community of investors.
During the second round of ICO only 150,000 MNX will be sold. The purpose of Phase Two is to determine the market price of the coin immediately before entering the exchange. The price will be calculated according to the following formula:
Y = ( X + Х1 ) / Z
where Y stands for market exchange rate (basic value in MinexBank's algorithm); X for volume of involved investor funds; X1 for absolute volume of bonuses accrued by early participants; Z for the amount of coins available for the ICO.
Phase Two will run from May 15th, 2017 to June 13th, 2017
The coins are subject to distribution among investors the day after the ICO's completion.
MinexCoin specifications
MNX is a derivative of bitcoin source code. Certain changes were introduced to make payments faster and the entire system more stable.
Total amount: 19 000 000 MNX
Block rewards: 2.5 MNX
Hashing algorithm: Mars
Block size: 2 MB
Block time: 2 min 45 sec
Roadmap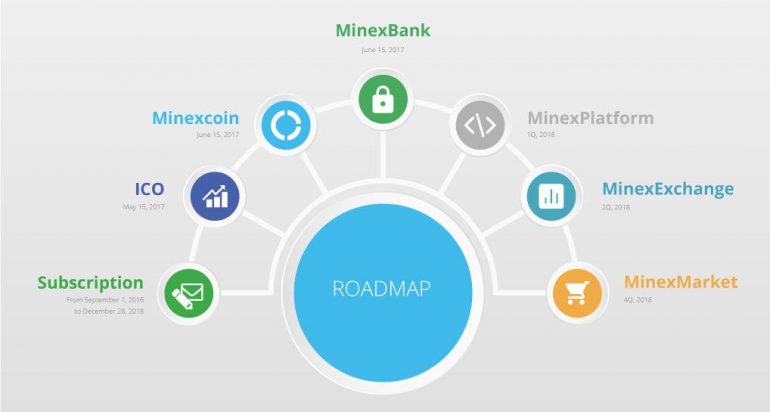 Feel Free To Donate MNX
More Information